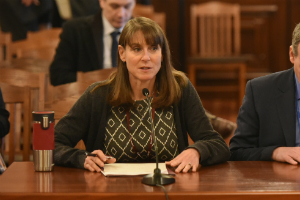 SPRINGFIELD – A potential gap in the protection of abused minors would be closed under a measure sponsored by State Senator Laura Fine (D-Glenview) which passed out of a Senate committee today.
"This adjusts an existing statute that, under specific circumstances, has left abuse survivors with no options for justice in the past," Fine said. "This problem arises from situations when a survivor of abuse turns 18 between the incident and the court date. It's an accident of timing that has let predators walk away clean and it's unacceptable. I'm happy to help close a loophole that harms a minor who is a survivor of abuse."
Senate Bill 1116 corrects nuances in the language of the law that currently leave open the potential for an instance of abuse to never be brought to trial if the abuse survivor's 18th birthday falls between the filing of the charges and the scheduled court date. While unlikely, it has happened in the past in rare circumstances. SB1116 closes the loophole and allows the cases to be heard in court, even if the minor comes of age.
The measure passed the Senate Judiciary Committee and will proceed to the full Senate for consideration.