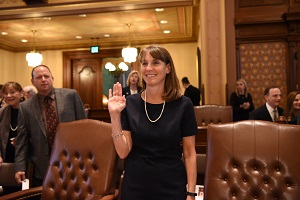 GLENVIEW – State Senator Laura Fine (D-Glenview) was inaugurated into the Illinois State Senate earlier today.
"I'm looking forward to getting started in the Senate," Fine said. "I know from my experience in the House that there's a lot of tough work involved in being an effective legislator, but I know that I'm capable of doing the job. I am honored to represent the concerns and interests of the residents of the 9th District."
Fine was inaugurated with her family by her side along with several other new members of the Senate.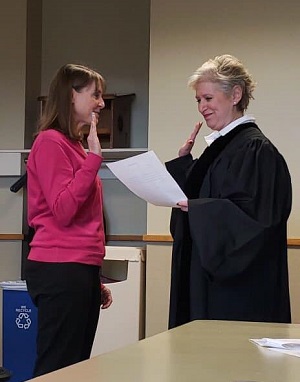 GLENVIEW – State Senator Laura Fine (D-Glenview) was sworn into office on Sunday to represent Illinois' 9th Senate District.
"I am extremely grateful for the opportunity to represent the people of the 9th District," said Fine, who represents several of Chicago's north suburbs including Glenview, Evanston, Winnetka and Skokie. "A new year with a new incoming administration means plenty of fresh opportunities to enact the change Illinoisans deserve, and I'm excited to get to work."
Her priorities for the new session include safeguarding the environment, finding solutions to reduce gun violence, and protecting citizens' healthcare rights. Fine was Chair of the House Committee on Health and Life insurance as a member of House of Representatives in the 100th General Assembly, where she represented the 17th House District.
Fine, who was elected to the 9th District seat in November, will finish the remaining few days of outgoing Senator Daniel Biss' term before beginning her own term for the 101st General Assembly on Wednesday, Jan. 9.
Senator Fine's website, which includes more contact information, is www.senatorfine.com
Senator Fine's local office information:
1812 Waukegan Rd, Suite A
Glenview, IL
60025
(847) 998-1717