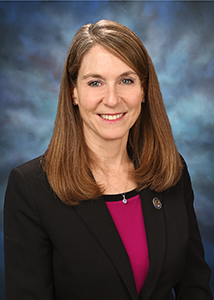 Senator Laura Fine has served in the Illinois Senate since 2018. She represents the 9th Senate District, which includes all or portions of Evanston, Glenview, Golf, Kenilworth, Morton Grove, Northbrook, Skokie, Wilmette, Winnetka and Chicago.
Before her election to the Senate, Senator Fine served as the State Representative for the 17th District from 2013 – 2019. During this time, she was a champion of quality, affordable healthcare, women's rights, an advocate for public education and a clean environment.
Prior to serving in the state legislature, Senator Fine was an instructor in the Political Science Department at Northeastern Illinois University and served as the Clerk of Northfield Township. Senator Fine has also worked in radio and television news for various media outlets throughout the Midwest.
Senator Fine holds a B.A. in telecommunications from Indiana University and an M.A. in political science from Northeastern Illinois University. She is a graduate of the Illinois Women's Institute for Leadership and the Bowhay Institute for Legislative Leadership Development; she is also an Edgar Fellow, Milbank Fellow, and a Henry Toll Fellow. Senator Fine is a member of Kiwanis Club of Glenview-Northbrook, the Rotary Club of Glenview Sunrise and the Glenview/Glencoe League of Women Voters.
Senator Fine currently serves as chair of the Behavioral and Mental Health Committee, and is a member of the Committees on Environment and Conservation, Health, Healthcare Access and Availability, and Insurance.
Senator Fine lives in Glenview with her husband, Michael, and their two sons, and is an active and involved resident of the community.