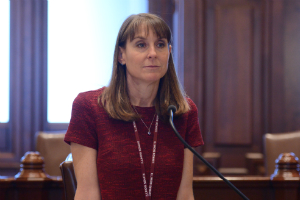 SPRINGFIELD – Certain state employees would be required to live within the state of Illinois according to a bill sponsored by State Senator Laura Fine (D-Glenview).
"Since the salaries of state workers are paid by the taxpayers of Illinois, the workers should be subject to those same taxes," Fine said. "This also ensures that every state employee has the state's best interests in mind, since any decisions made will affect them as well."
Senate Bill 1639 establishes a state residency requirement for state workers hired after Dec. 31, 2019. If a new hire is not a resident of the state, they will have a three month grace period to establish residency. In addition, the bill gives the Director of Central Management Services the discretion to waive the residency requirement if the employee can prove that their non-residency has a just and reasonable cause.
The bill would not affect third-party contractor employees or any employee hired before Jan. 1, 2020. It was approved by the Senate with 53 votes and will be sent to the House of Representatives.