Published: Wednesday, March 06, 2019 02:48 PM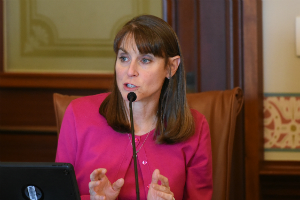 SPRINGFIELD – State workers would be required to live within the state of Illinois under a new proposal by State Senator Laura Fine (D-Glenview).
"State workers' salaries are paid by Illinois taxpayers," Fine said. "It just makes sense that if you're going to be paid by income, sales, and property taxes that Illinois residents pay, then you should be subject to those same taxes."
Senate Bill 1639 establishes a requirement that to work for any state agency within Illinois, a person must live in the state. The measure would not affect employees who work for a contractor that has a contract with the state, and allows for a three-month grace period.
The bill passed the Senate Committee on State Government and now moves to the full Senate for consideration.
Category: Press Releases