Published: Thursday, January 10, 2019 08:54 AM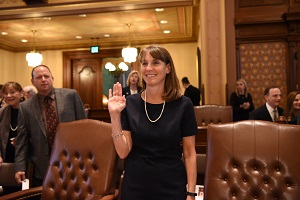 GLENVIEW – State Senator Laura Fine (D-Glenview) was inaugurated into the Illinois State Senate earlier today.
"I'm looking forward to getting started in the Senate," Fine said. "I know from my experience in the House that there's a lot of tough work involved in being an effective legislator, but I know that I'm capable of doing the job. I am honored to represent the concerns and interests of the residents of the 9th District."
Fine was inaugurated with her family by her side along with several other new members of the Senate.
Category: Press Releases