Published: Thursday, March 14, 2019 01:13 PM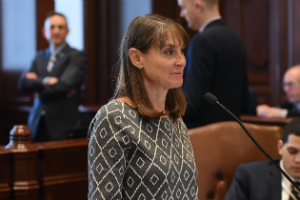 SPRINGFIELD – Working to protect the health and well-being of young Illinois residents, State Senator Laura Fine (D-Glenview) voted to pass a bill that will increase the age of smoking from 18 to 21.
"Smoking and the general use of tobacco products is an addictive and dangerous habit," Fine said. "For most people, it's not a matter of if you get cancer, it's a matter of when. By increasing the age at which people can legally access these products, studies show that people will be less likely to take up smoking in the first place."
House Bill 345, commonly known as "Tobacco 21", will prohibit the sale and purchase of tobaccos products to those under 21 years of age. The current age is 18.
The bill passed both chambers of the General Assembly with bipartisan support, and will now be sent to the Governor.
Category: Press Releases