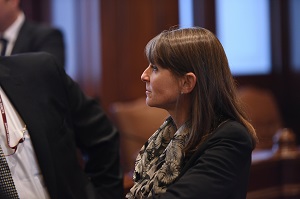 SPRINGFIELD – State Senator Laura Fine (D-Glenview) voted Thursday to increase the pay of minimum wage workers across Illinois.
"Wages have been stagnant for nearly a decade, but the cost of living certainly has not, and minimum wage workers have struggled to keep up," Fine said. "This has been going on for far too long, and I'm proud to have helped the Senate pass this important legislation that will help so many people throughout the state."
The current minimum wage is $8.25 per hour. The proposed wage increase would be phased in gradually over the next several years:
$9.25 per hour on Jan. 1, 2020
$10 per hour on July 1, 2020
$11 per hour on Jan. 1, 2021
$12 per hour on Jan. 1, 2022
$13 per hour on Jan. 1, 2023
$14 per hour on Jan. 1, 2024
$15 per hour starting Jan. 1, 2025
The legislation, Senate Bill 1, will now head to the House of Representatives for consideration.